COMPANY PROFILE
VISION AND CORE VALUES
***
KSB Shipyard's CORE values are the image of who we are, and the aspiration of who we strive to be, as a shipyard, an organisation, and as individuals.
Right from the start and continuously moving forward, these values is the reflection of our pride and passion which uphold our united commitment to build our progress and take up all challenges. For further years to go, our unity will always be strengthened by these values that allow us exhibiting our assurance and visions, every time.
[EXCELLENCE]
We integrate our distinctiveness with communication and transparency as one team, and project ourselves with opportunities ahead of the challenges.
[PEOPLE]
We are caring towards our workforce, their safety; as much as we are passionate about our performance as one company.
[INTEGRITY]
We uphold our business principles and thrive on being responsible for our actions.
Be the national's premier engineering, construction, and ship build-repair organisation by accomplishing remarkable projects for our customers, creating prosperous career opportunities for our people and securing significant values on our development, particularly in the International Maritime Sector.
To be nations' preferred ship builder and integrated services provider for docking, maintenance, and repair, with consistent dedication and quality assurance.
To be customers' most satisfied and trusted services providers progressively
To be the source of development for the people and community, and contribution towards the economy and national advancement.
ETHICS
Integrity, equity towards all things
SAFETY AND HEALTH
We uphold our zero harm policy and manage our work environment mannerly, clean and safe
QUALITY
We are always zealous in performing our excellence, right at the first time. We honor our recognition in every delivery to each customer.
We innovate and continuously improve our ideas to achieve global standards and technology. We constantly listen, learn, and set our self as a benchmark in the market.
PEOPLE
Our most valuable assets are our people, for this is our inspiration in the continuous pursue towards challenging development opportunities, and rewarding careers.
We connect each person in positive and good relationships to achieve long sustaining partnership with our customers, joint venture partners, subcontractors, suppliers and colleagues that are established on common trust, respect, and collaboration.
KSB CULTURE AND SUSTAINABILITY
We create a diversified and collaborative working environment, in way that we regard every view important, and teamwork recognition is highly valued.
We implement our community's awareness by engaging locals, respecting divergent cultures, and enhancing quality of life, as well as preserving our environment.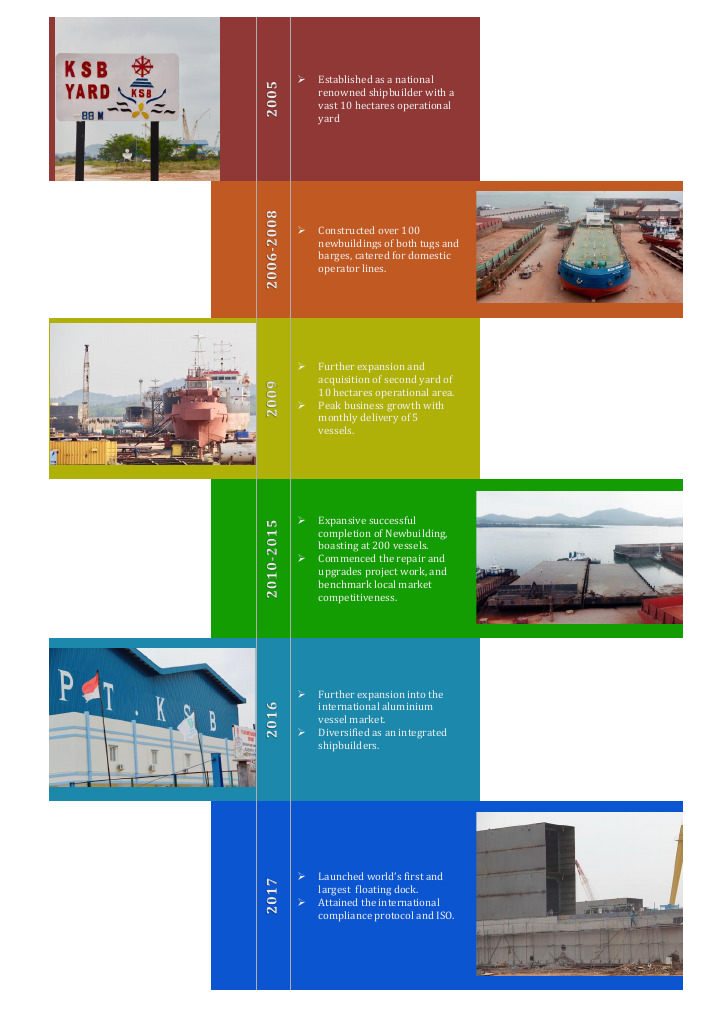 PT. Karyasindo Samudra Biru Shipyard, renowned as KSB Shipyard is a national renowned ship builder, in which the major operations are in construction, engineering, and repair services. KSB Shipyard was established in 08th March 2005, occupying initial 10 hectares operational yard at Jalan Kav. 1 Sagulung Baru, Kampung Becek Sei Lekop, Batu Aji, under Deed of Incorporation No. 17 by Notary Anly Cengana in Batam.
Towards KSB prosperous growth within tugs and barges new building in 2009, Management of KSB Shipyard had further established expansion by acquiring second yard with 10 hectares shipyard by the Jalan Kav. 3 Sagulung Baru, Kampung Becek Sei Lekop, Batu Aji.
Our reputation as the integrated shipyard continuously improves and our customers sphere connection have also broadened since then. With our consistency on 'KSB Quality' work and performance, we have secured undeniable existing customers who have profoundly entrusted all their returning projects with us. As our commitment, we always innovate and develop our product and quality in every project, and set upgrades benchmark for us to be a leading and nationally reputed builder.
In 2016, KSB Shipyard has successfully established a joint venture with a dedication towards the thriving Aluminium market, under a brand new international "Marine Treasure Pte Ltd"; bringing significant global shipbuilding market competition and establishing entire new reputation in aluminium fabrication expertise. This move has improved our profiles into an internationally renowned diversified ship builder, with two major divisions focusing on integration acros the maritime seas.
In construction and project management skills, we assure our clients in receiving international quality standard vessels, in which have the maximum operations capability. Our covenants towards excellent works will therefore create values for our clients and continues to establish our KSB reputation within the global shipbuilding industry.
PT Karyasindo Samudra Biru shipyard has a high maintenance of skillful manpower for each divisions and brand of professional and trained designers as well as key production staff that continually develop manfacturing techniques to maximise construction efficiency. We are committed to Australian Business System Certifications for ISO and OHSAS that provide us the best possible profile in delivering quality and global construction services to our world-class clients.